IJM Collectable Christmas Ornaments
Regular price
Sale price
$6.99 AUD
Unit price
per
Get your hands on 6 years' worth of IJM Christmas Ornaments! Representing a community where IJM works, each ornament is engraved with a special word in the local language:
RESCUE written in Hindi (most commonly spoken across India) 
FREEDOM written in Tamil (spoken in the state of Tamil Nadu, where IJM Chennai in located)
RESTORE written in Akan (commonly spoken in Ghana)
DREAM written in Bengali (spoken in the state of West Bengal, where IJM Kolkata is located) 
HOPE written in Cebuano (commonly spoken in the southern Philippines)
LIGHT written in Khmer (spoken in Cambodia)
Product Details: Made from planet friendly bamboo, these ornaments are sourced from Common Good, a social enterprise providing opportunities for impoverished families in Kolkata. 
This item is not tax-deductible.
Read FAQs
Share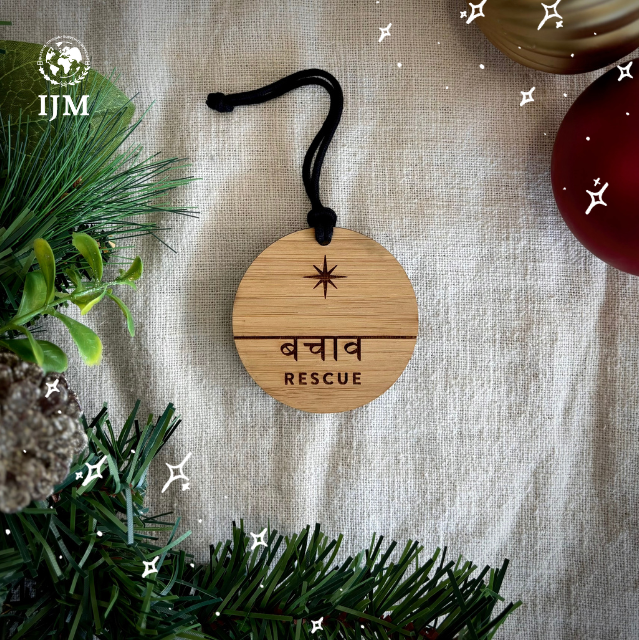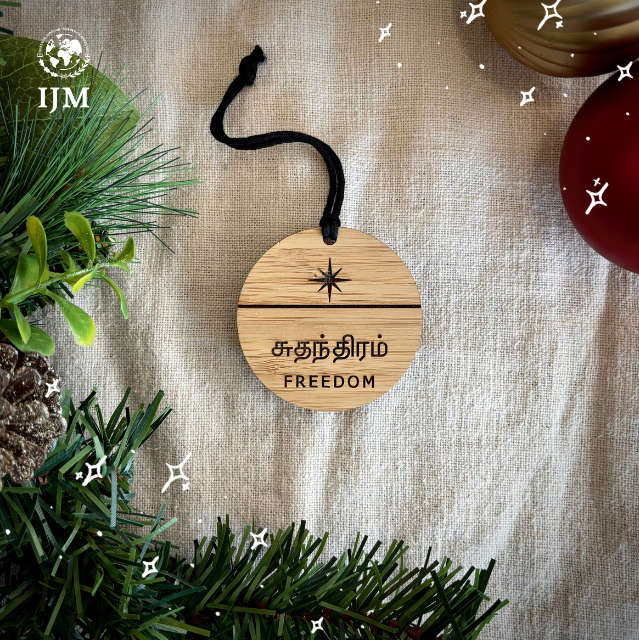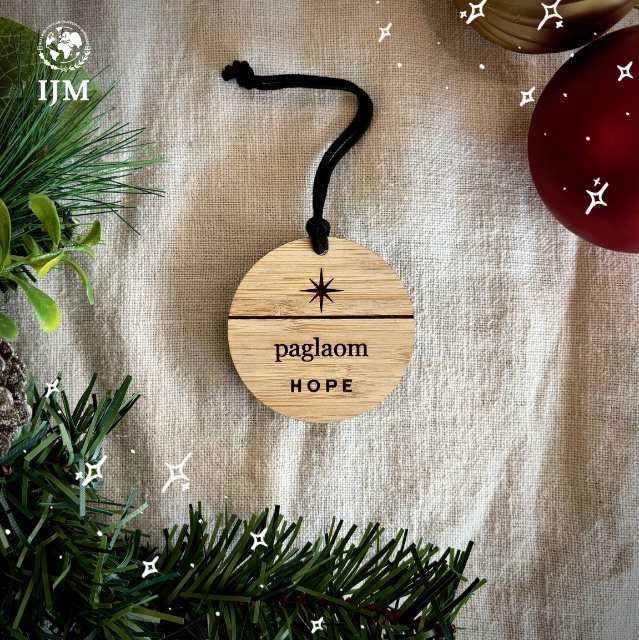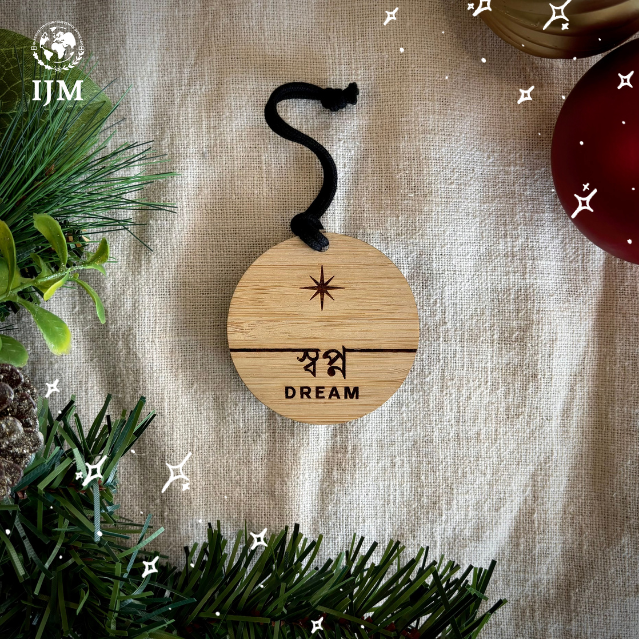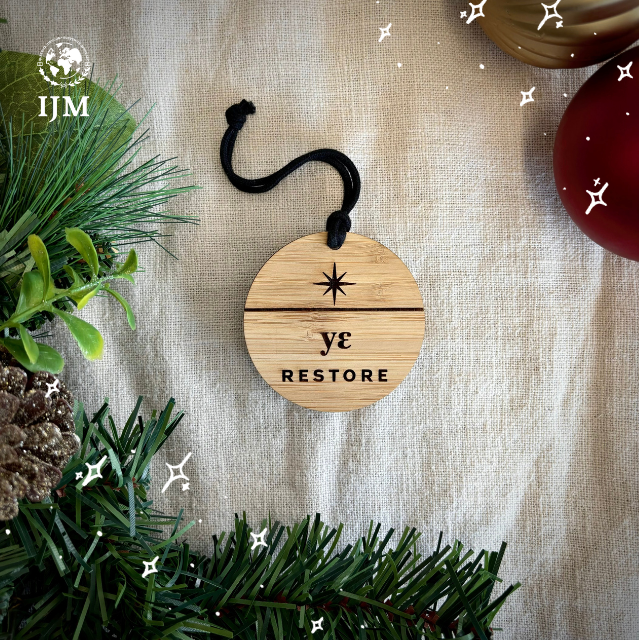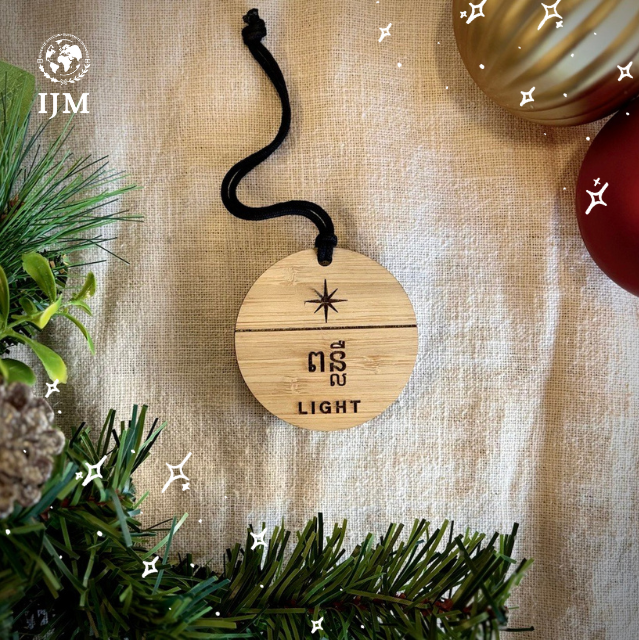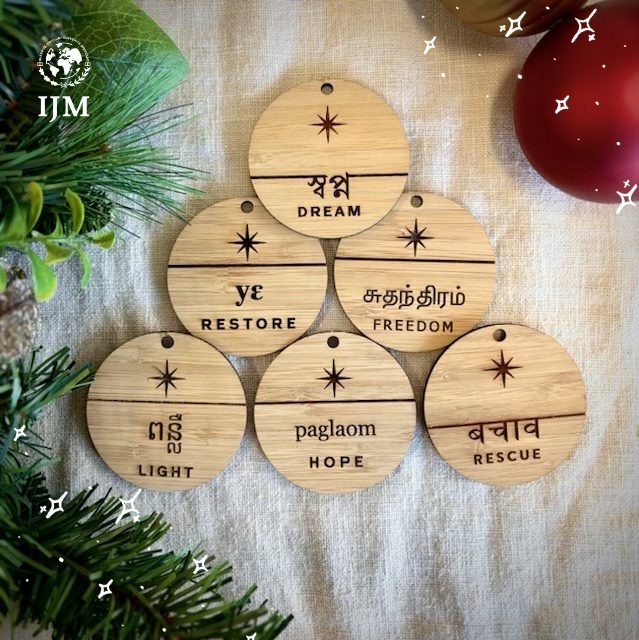 Frequently Asked Questions
1. Shop online: IJM.org.au/gifts
2. Choose your gift: to give to friends and family 
3. Choose your type of card: physical or digital 
For all of the gifts found in this catalogue, you can choose to send either a mailed card we'll post to you, or a downloadable card you can print and personalise at home. The amount you donated will not be printed on the card. 
By purchasing a gift, you are helping IJM's global mission to end modern slavery.
Your donation will go towards the casework category linked with your gift. If the amount raised exceeds our needs for any specific gift category, surplus funds will be directed to IJM's most urgent needs. 
We are grateful for your generosity and promise to honour your donation in the most effective way possible. The gifts in this catalogue represent IJM's projects at the time of writing, and the costs are based on average expenses across the organisation. 
For more information about IJM Australia, visit IJM.org.au
For orders placed via check, your receipt will be mailed to you shortly after we process your donation. Orders made online and over the phone with a credit card will be receipted via email. All gift orders are tax-deductible. 
Cards are typically mailed within 72 hours of receiving your order. You should receive your cards within 7 to 10 business days of your order.
At this time, we can only mail cards to addresses within Australia. For international orders, please select a downloadable card. 
Highlighted by U.S. News & World Report as one of 10 non-profits "making a difference," IJM is unique in its holistic approach to abuse. IJM follows individual cases all the way from investigation, to rescue, to holding criminals accountable, to aftercare for survivors.
This shows us exactly where the system does not work for the poor, and equips us to partner with local governments to actually fix those problems.
We're seeing communities actually transformed. After four years of IJM partnership with law enforcement in Cebu, the Philippines, outside auditors found a stunning 79% decrease in the availability of minors for sex.
International Justice Mission complies fully with federal and state charitable solicitation requirements, is a member of Evangelical Council for Financial Accountability, and meets all the Standards for Charity Accountability of the Better Business Bureau Wise Giving Alliance